Situated in the aristocratic Bairro da Lapa area near the Tagus (Tejo) waterfront, west of the city centre, this attractive Hotel has been welcoming guests for over one hundred years.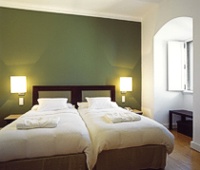 Inside, marble, tiled and polished wooden floors create a serene and cosy atmosphere that is typically Portuguese. Corridors are tiled and spread with rugs, a great improvement from the Convents former austerity!

Behind a pink painted wall, at the top of a mysterious flight of stairs, lies a terrace with a profusion of flowers and trees where peace is absolute. This is the ideal place to read, enjoy a drink, or simply absorb the atmosphere of a different Lisbon.

Evening dining is by candlelight on the terrace, or in the dining room. Traditional meals are served, cooked by the chef, and the wine list is extensive. There is an English Bar for a post or, pre dinner, drink.

The 32 guest rooms are stylishly furnished and the floors are draped with beautiful rugs.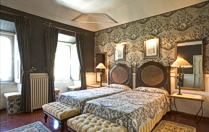 Some rooms have a view over the River and rooftops of Lisbon. All rooms have private bathroom, telephone, air conditioning, internet access, cable television and hairdryer.
Meals are served either in the dining room which looks out over the terrace, or on the terrace itself.
Facilities at the hotel include, restaurant, bar, lounge, terrace, leafy courtyard, internet access, 24 hour room service, laundry service, babysitting and limited parking.
Due to the popularity of this Hotel, early booking is advisable.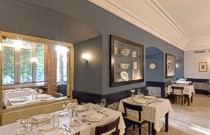 The eclectic decoration shows a respect for history as well as fulfilling a more modern role and creating a romantic atmosphere.
The nearby Museum of Ancient Art and the more central river front provide delightful buildings and attractions for the visitor. Here you will find the Monastery of Jeronimos, the Tower of Belem and the magnificent monument to the Discoveries - all must sees.
Lisbon is a vibrant capital city providing a charming mixture of old and new. Built on a switch back of hills above the broad Tejo (Tagus) estuary, there are few cityscapes as startling and eccentric.
There are of course very many restaurants in the city but you should visit at least one of the restaurants which have 'Fado', a wonderful form of singing, unique to Portugal.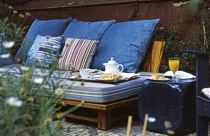 The districts are linked by an amazing network of cobbled streets, up whose steep gradients crank trams and funiculars.
Frequent trams and buses run to and from the city centre.
Please note that there is no lift, and due to the number of stairs at the entrance of the hotel, it is not suitable for people with walking difficulties.
For details of golf courses in the area, please click here.