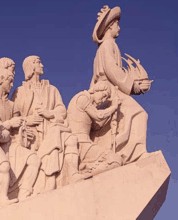 As you stroll around, you'll find wide esplanades paved with black and white mosaics, open squares where you can buy freshly roasted chestnuts in paper cones, mazes of cobbled alleys, and steeply winding streets along which quaint trams whirr.

From St. George's Castle, which stands magnificently on top of one of the seven hills, Lisbon is laid out before you in a breathtaking view. White and turquoise peacocks strut around the shady gardens above which tower yellow sandstone battlements shrouded in ivy. From here, you can see terra-cotta tiled rooftops, ancient monuments, statues which preside over squares, the old quarters of the Bairro Alto and Alfama where nostalgic fado is played nightly, and the Tagus river flowing under its graceful suspension bridge. It's hard to believe that most of the city was re-built after the great earthquake of 1755 and devastating fires: redesigned in a strict grid system, preparing Lisbon for its future.

Down by the Tagus, from where many explorers set sail, stands the Belem Tower with its fairy tale turrets and the proudly poised Monument to the Discoveries. Nearby is the Jeronimos Monastery: a remarkable example of Manueline architecture - a Portuguese variation on Gothic with carved nautical symbol, such as anchors and ropes. Inside are fantastic stone columns, high ribbed vaultings, royal sarcophagi borne by marble elephants, and stained glass windows through which pour jeweled beams of light. Other incredible sights include the imposing 14th century Carmo Convent, the beautiful Madre de Deus church which houses the fascinating National Tile Museum, and a wide range of other museums, some with art exhibitions from ancient to contemporary and some with unusual collections such as coaches and costumes.

It's a short drive west out of the city - or a scenic train ride - to the stylish resorts of Estoril and Cascais, with their top hotels palm lined walks and sparkling nightlife. There are tennis and golf facilities, and world championships are held here for sailing and windsurfing. Further west, you'll discover the spectacular windswept beaches and cliffs of Guincho and Europe's most westerly point - the dramatic Cabo da Roca.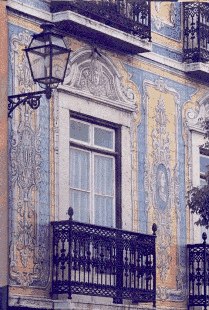 Inland, the ground rises steeply to the green wooded hills surrounding the town of Sintra, praised by Byron as a glorious Eden. In the centre stands the National Palace with its remarkable conical chimneys. Follow the walls of the 8th century Moorish castle and you'll find a piece of pure indulgence in fantasy: the romantic Pena Palace, built in every conceivable style and still laid out just as if it was inhabited.
Beyond lies Mafra dominated by the vast Baroque Palace Convent which houses a magnificent Rococo library and lavish royal apartments. And to the south-east is the pink palace of Queluz where cultural events are held all year round and which is one of the finest examples of Rococo in Europe. A half hour's drive south of the Tagus are the Arrabida hills dipping sharply down into the Sado River estuary to form a coastline of sandy coves and gentle seas. You can stop over in the Pousadas (stately castles) of Palmela or Setubal and spend time relaxing on the fine golf courses and beaches of Troia or exploring the tiny, unhurried fishing village of Sesimbra.
Lisbon is a charming yet cosmopolitan city with a fascinating history, and makes a perfect starting point from which to discover breathtaking sights and fashionable beach resorts around its coast.
Text provided by the Portuguese Tourism Information Department

Links to other areas of Portugal
Return to Manor House index