During the second half of the 18th Century, this mansion was built within St. George (Jorge) Castle walls on the site of the former Alcacova Palacete kitchens.

It is still known today as the Palacete das Cozinhas (Kitchens of the Mansion).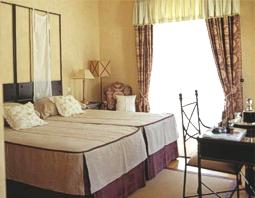 This mansion, classified as an historic building, has now been transformed into a stylish Hotel, offering luxury and comfort in a superb location.
The Hotel has a total of 14 bedrooms all with en-suite bathroom, air conditioning and double glazing, satellite television, free high speed wireless internet access, flat screen LCD television, DVD player, direct dial telephone, bathrobes and hair dryer.
Facilties include a bar, elevator and elegant lounges with comfortable seating.
The hotel does not have a restaurant as there are many excellent restaurants and cafes within walking distance.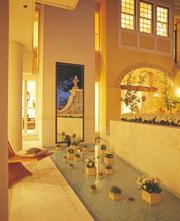 In 1147, the Castle was defended by the Moors against the Portuguese army and the Crusaders for seventeen weeks until its walls were breached.
The Crusaders then ransacked the city and murdered many of the inhabitants, both Moors and Christians
In 1190 with both religions existing peacefully together, a second band of Crusaders, on seeing the Moors, ransacked the city a second time.
A statue to King Afonso Henriques, who emerged from these unfortunate events, is at the main entrance to the Castle.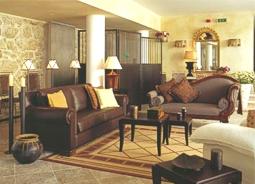 Within the old walls, built by the Moors, the Solar do Castelo is surrounded by gardens, terraces with pools and the sound of the singing of caged birds.
The first Portuguese Kings lived in the Alcacova, the Muslim Palace. Later, a new Royal Palace on Terreiro do Paco was constructed.
Within the outer walls is the small medieval village of Santa Cruz, and to the north is the area inhabited by the Moors after the fall of the city.
A car is not recommended for people staying at this hotel due to parking difficulties. By taxi you can only get within 100 metres of the hotel as no vehicles are allowed in the Castle.
There are so many places to visit in this wonderful city that they are too numerous to mention however, the Monastery of Jeronimos and the Belem Tower are a must also, dining out in one of the many restaurants which feature the famous Fado, a type of singing unique to Portugal.
For details of golf courses in the area, please click here.