This charming hotel opened in the early 1950's. The architect's dream was to create an hotel offering 'practical solutions which promote a sense of well-being', and the present owners have continued to maintain this dream.

Located in the heart of the capital city, the Lisbon Plaza is now considered to be a classic amongst Lisbon hotels.

The hotel was extensively renovated in 2000, and the services of the famous Portuguese interior designer Graca Viterbo, were employed.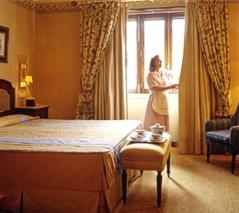 The result is beauty and style in an informal and relaxed atmosphere. All the bedrooms and suites are individually decorated and, as with the public rooms, great attention has been paid to detail.
Muted colours, marble floors scattered with traditional rugs, fine pieces of furniture and comfortable seating, all contribute to the ambiance.
The Hotel Lisboa Plaza has 12 suites and 94 bedrooms, all individually decorated and, all with marble bathrooms.
The bedrooms are double glazed and have air conditioning, Satellite television, free high speed wireless internet access, flat screen LCD television, DVD player, direct dial telephone, safe, mini bar, bathrobes and hair dryer.
The hotel facilities include 24 hour room service, non smoking rooms, restaurant, bar and garage.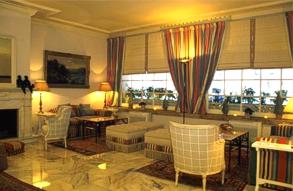 A buffet breakfast or, breakfast in your room is available. This is not included in the room rate.
The Hotel Plaza is an ideal venue for business meetings and conferences. It has 6 meeting rooms, a secretarial service and multilingual staff.
Outside, the bustling, cosmopolitan city of Lisbon with ancient Palaces, the Barrio Alto with its Fado bars, the narrow streets and cranking trams, awaits you.
A stay in this city would not be complete without visiting the Museu Gulbenkian, founded by the oil magnate, Calouste Gulbenkian, who donated his vast private art collection to Portugal in exchange for a palatial home and tax exemption!
Also, Monastery of Jeronimos and the Torre de Belem. Also, there are a number of excellent golf courses in the Lisbon area.
This beautiful hotel givees a warm welcome and is an oasis of calm in the centre of this vibrant capital of Portugal.