This elegant Palace with its beautiful gardens, was re-opened in 1992 as a 5 star Hotel after it had been expanded to incorporate additional pool side accommodation.

This most refined hotel is decorated in traditional Portuguese style. It features marble stucco, carved wood and richly patterned azulejos (tiles).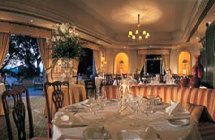 The Lapa Palace has 109 guest rooms, 12 Deluxe rooms, 7 Suites, the Royal Suite Conde de Valencas and the Tower Room.
Most of guest rooms have magnificent views over Lisbon and the Tagus River and are very well equipped as you would expect of a Hotel of this class.
Each guest room in the Palace Wing is unique, with its own individual Portuguese style from 18th Century classical to Art Deco.
Located on a hill overlooking the Tagus River, the hotel is set amid tranquil gardens dotted with ornamental fountains and streams.
It is surrounded by stately Embassy buildings and is close to the centre of Lisbon, with its 19th Century Squares and Belvederes.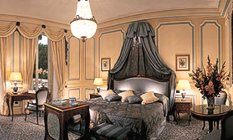 You are lured to cross the river in one of the fleet of ferry boats by a magnificent statue of Christ with arms outstretched on the far bank.
For visitors, it's hard not to see the city as an urban fun fair. This sense is heightened by the Castle poised above the Alfama district's medieval streets with their white washed houses and by the fantasy Manueline architecture of Belem and the magnificent Monastery of Jeronimos.
Lisbon is both a fascinating and exciting city. Perhaps one of the most interesting places to visit are the "Baixa" squares, of which Rossio, at the northern end of the Baixa grid, is the liveliest.
The square itself is modest in appearance, but very much a focus for the city, it has several atmospheric and popular cafes, most of which have outdoor seating.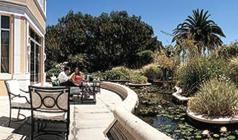 In the Lapa Palace there are 8 private function rooms, offering accommodation of varying shapes and sizes, as well as a fully equipped auditorium with 86 seats and a business centre with complimentary access to e-mail and Internet.
These superbly appointed rooms are suitable for all kinds of events, both business and social, including dinners, cocktail parties, meetings, conferences and seminars.
In addition, you have at your disposal heated indoor and outdoor swimming pools, gardens, comfortable lounges, rooms for disabled persons and parking facilities.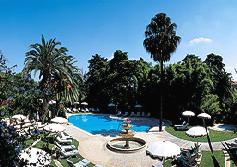 There is also the Lapa Palace Spa with sauna, steam room, a well appointed gymnasium, massages and exclusive beauty teatments from Elemis, which offer a unique City resort atmosphere.
After exercise, you can relax and wind down with a visit to the club bar, with indoor and outdoor seating.
Golf, tennis and horse riding are available nearby and Lisbon airport is approximatley 8 miles away.
The restaurant 'Lapa' serves refined Mediterranean cuisine. The pool side Pavilhao Restaurant serves alfresco light snacks and lunches during the summer season.
In summary, the Lapa Palace Hotel offers everything the discerning guest could want from a city centre hotel. You have stunning views, opulent decor, superb cuisine and extensive facilities.
You will feel that you have entered another world, a world that echoes the luxury of a bygone era.