This romantic town house of the late 18th Century, has been transformed into a charming, private Hotel offering luxurious accommodation.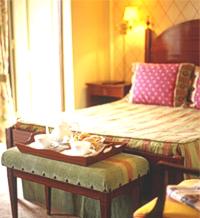 It is located in the old part of the city, near the Ancient Museum and Tagus River in an area where the Embassy's are concentrated.

The hotel's 29 rooms are sunny and cheerful and there is a small garden where you can relax, away from the bustle of the city, while enjoying the aromas of the flowers and the sea.

All rooms have private bathroom, double glazing, air conditioning, satellite television, free high speed wireless internet access, flat screen LCD television, DVD player, direct dial telephone, safe, bathrobes and hair-dryer.

Facilities at the hotel include a bar, lounge, patio, rooms for non smokers, 24 hour room service, small garage, currency exchange and, all major credit cards are accepted.

Hotel As Janelas Verdes does not have a restaurant however, there are a great many inexpensive restaurants and cafes nearby.

A relaxing buffet breakfast can be taken in the sun on the small ivy covered patio. This is not included in the room rate. Alternatively, you can follow the custom of the locals and take coffee and toast at one of the many local cafes, very inexpensively.


There is a magnificent library on the top floor with a picture window opening onto a delightful balcony. This is an ideal place for quiet reading with the rooftops of Lisbon below, the cruise ships at their terminal, and the wide River Tejo (Tagus) stretching out below.
In the window of the library there is an old brass telescope to look more closely at the interesting sights.
The Hotel, like the street from which it gets its name, has a gentle, romantic and welcoming atmosphere.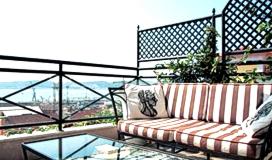 Eca de Queiros, the famous Portuguese novelist, wrote about a magical home "O Ramalhete" in his novel "Os Maias". There are many who think it must be based on this Lisbon home which he loved.
The memory of his presence is still very much alive in the atmosphere in which we find ourselves once we enter the Hotel. There are small objects d'art, books, paintings and other articles of an earlier era.
Though history is all around, Lisbon is very much an international city of today, with a vitality and bustle of its own.
Take time during the day to visit the many museums and monuments that line the river front.
An evening visit should be made to the lively city centre and also to some of the many restaurants which have the famous Fado, a uniquely Portuguese form of singing.
The World Heritage Sites of Monastery of Jeronimos and Torre de Belem should not be missed.
There are a number of excellent golf courses in the area, please click here for details.