Quintal de Alem Ribeiro was completely restored and re-furnished in the year 2000 by the present owners.

The reason why this house is called "Quintal" (small estate) and not "Quinta" (large estate) like most of the agricultural properties in Portugal, is because the grandfather of the present owner sold most of the 50 hectares of land to the local people.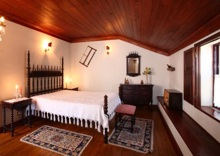 The Quinta's private chapel, which is located about 300 meters away from the main house, was donated to the local small community during the XX century.
The house is located a short drive away from the small historic village of Lousa, with its ruined medieval castle. From the village centre towards the pine trees, there are many springs with clear water that locals drive up to collect.
On the Mondego river's border there are two splendid wooded hills. On one sits the medieval castle offering delightful views over the valley; on the other is a small hermitage dedicated to Nossa Senhora da Piedade.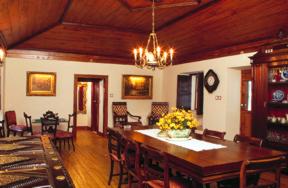 The train journey from Coimbra to Lousa is claimed to be one of the most beautiful in Portugal and is definitely the best way for maximum scenic enjoyment of the lush, green valley. The owners will be pleased to collect the tourists at the train station provided this is arranged in advance.
The house has four, comfortable bedrooms, all are different and are furnished according to their names :
ROMANTIC - It is the only bedroom in the main house as all the others have direct access from the terrace/patio. A very spacious room with a traditional Portuguese antique double bed.
SECRET ROOM - A bedroom with a very small "hiding place" where the gold was kept during the French Invasion and Portuguese revolutions in October 1910 and April 1974.
CARPENTER'S ROOM - A beautiful room with a small, covered veranda overlooking the vineyards and main patio.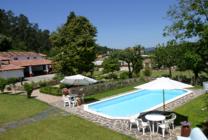 HUNTER'S ROOM - Located in an adjacent cottage, a twin bedroom also with a covered veranda overlooking the swimming pool.
All bedrooms have ensuite bath/shower rooms, central heating and a radio.
The swimming pool is set in the lawned gardens.
There is a "honesty" bar with a piano open for drinks & snacks and, meals are available on request.
There are also two self catering Cottages available for rent which have the benefit of all the facilities of the farm.
Coimbra town centre, one of the former capitals of Portugal is about 23 kilometres from the Quinta.
Coimbra and Lisbon are cities famous for 'Fado', a uniquely Portuguese form of singing. Fado is based on Coimbra University, one of the oldest in the world.
Porto (Oporto) airport is approximatgley a 1 hour and 20 minutes drive away, with almost the whole journey being by modern motorway.