4 star Hotel Flor de Sal can be found in the beautiful Minho town of Viana do Castelo (Costa Verde), 70 kilometers north of Porto. The Hotel is situated right on the waters edge of the Atlantic ocean with uninterrupted wonderful, sea views.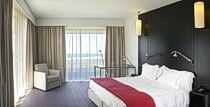 As well the superb beach across the river, Viana do Castelo offers the visitor many attractions including a Cathedral, main square, shops, restaurants, cafes, marina, riverside gardens and, the beautiful Santa Luzia Basilica, high above the town.

The maze of cobbled streets in the town centre branches out from the wide Avenida dos Combatentes which has the Railway Station at the top and views to the sea at the bottom. The Avenida was constructed at the same time as the railway in order to facilitate the movement of goods between the station and the riverside quays.

There are also excellent beaches north of Viana at Carreco, Afife and Vila Praia de Ancora. Carreco, has two beaches separated by the hill and lighthouse of Montedor. The more northerly beach, Paco, is particularly attractive with its small fort.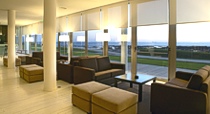 Afife, a further 4 kilometres away, is a pretty village with a superb 3 kilometer stretch of beach, excellent for surfing.
The town of Ponte de Lima, with its Roman bridge, is situated on the south bank of the River Lima approximately 25 kilometers east of Viana do Castelo and is well worth a visit.
Further afield, approximately 45 kilometers away, you have the border region of Galicia in Spain. Lots of wonderful places to visit here too, Vigo, Bayona and, a ferry ride away, Isle de Cies with breathtaking views.
This superbly located Hotel was opened in December 2004 and offers quality accommodation. Hotel Flor de Sal has been very tastefully furnished in the modern style and offers a wide range of facilities.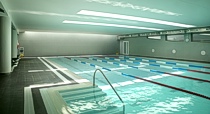 The accommodation comprises a total of 60 bedrooms including 1 Penthouse Suite, 2 Executive Suites, 6 Junior Suites and 2 bedrooms suitable for disabled persons.
All rooms have large windows and the west facing rooms have balconies and deck terraces with magnificent sea views. The east facing rooms have views of Santa Luzia mountain.
The Penthouse Suite has a living room, with fireplace, where meals can be served. Both the living room and bedroom have direct access to the enormous 50m2 balcony which is ideal for sunbathing.
All accommodation is comfortably furnished and air conditioned and has Satellite television, direct dial telephone, internet access (leads can be purchased at reception), mini-bar, safe and hair dryer.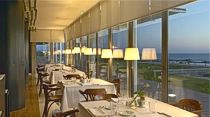 The Hotel`s Saleiro restaurant, which faces the sea, serves an excellent buffet lunch. For dinner there is an A La Carte menu offering a variety of delicious local dishes as well as international cuisine, all accompanied by excellent Portuguese wines.
Weather permitting, you can also dine on the large terrace.
The hotel also has 2 bars both with views to the sea.
Flor de Sal is adjacent to a 2,000 square meters Health Club and Spa with beauty salon, fully equipped gymnasium, massage and treatment rooms and 2 heated indoor salt water swimming pools.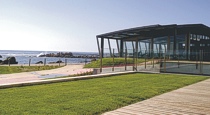 For conferences and functions the Hotel has 3 meeting rooms which face the Atlantic ocean and, an auditorium which holds 150 persons. The conference rooms will accommodate between 10 to 200 persons. The Hotel's restaurant is also an ideal venue for a business lunch.
Hotel Flor de Sal has a car park and garage.
Leisure facilities near the hotel include a bowling alley, night club and 3 restaurants.
There are 3 excellent golf courses just 30 minutes away, 2 in Esposende and 1 in Ponte de Lima they can all be seen at Northern Portugal golf courses.