Minho is situated in the north-west corner of Portugal next to the frontier with the Galician province of Spain. It is often called 'Green Minho' because of its green forests and cultivated valleys.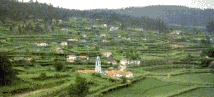 Small houses are dotted around the lush landscape, surrounded by fields too small for a tractor to work them. Connecting these fields are granite set tracks which often have grape vines growing overhead. Liberally scattered around are the great houses of the past, of which nearly all have been beautifully restored.
Beautiful rivers come into this region from Spain. The river Lima has the towns of Ponte de Barca, Ponte de Lima and Viana do Castelo on its banks.
Another river is the Minho river which forms the northern border with Spain. Again there are interesting old towers along its banks including the fortified border town of Valenca do Minho. The fort which encloses the town was built to keep out the Spanish but nowadays their trade is welcome. Near here, at Ponte de Mouro, John of Gaunt, Duke of Lancaster met with King Joao to ratify the Treaty of Windsor and arrange for the wedding of his daughter, Phillipa.
The southern border of the region is another beautiful river the Douro. Again the riverbanks are terraced vineyards leading down to the water. The wine from the 'quintas' on the upper reaches of this river is used to make the famous Port Wine.
The river valleys of this area of Portugal used to be the favourite place for the wealthy to build their manor houses. Today Princes, Prime Ministers and many others come to enjoy the Portuguese hospitality in these houses. Very affordable prices also allow others to also enjoy the area and lifestyle.
Nowadays many Minhotos from Portugal and the Galegos in Spain would like the regions of Galicia and Minho to split from their respective countries and form a separate Celtic state joined by their culture and language.
Minho also boasts the only National Park in Portugal with international status. Here there are the traditional hill farms and way of life. The cattle live under the houses and those which do go out grazing have to be indoors each night because of the Iberian wolf. Often the work of the village operates on a communal basis and money is not a necessity (although all nowadays have a bank account to collect the euros from the EU agricultural subsidy).
Access to modern society, thanks to EU projects of roads and electricity, means that the old way of life of these villages will be over forever in a few years time and it is recommended that all those interested should not delay their visit. Already it is becoming hard to find a water mill still working or a house without a chimney so that the hams could smoke in the kitchen.
Links to other areas of Portugal

Return to Manor House index