This 4 star hotel is located in the heart of Lisbon near one of its most famous monuments, St. George's Castle.

It is situated between the two historic quarters of Alfama and Mouraria, both with origins in medieval times.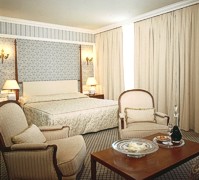 In June, this area bursts with life during the festivities in honour of Lisbon's patron saints.
The hotel's decor is both beautiful and glamorous giving it an undisputed charm.
Over its four floors, the Olissippo Castelo Hotel has 24 bedrooms, including 2 suites and 10 superior rooms.
The bedroom all have ample wardrobes and are air conditioned. They also have Satellite televison, direct dial telephone, internet connection, mini bar, safe and hair dryer.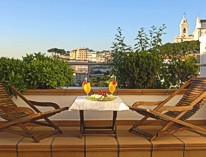 Facilites at the hotel include breakfast room, bar, elevator, laundry service and a private garage with limited capacity.
From the hotel, guests can enjoy an outstanding panoramic view of the city.
Lisbon is in many aspects an extraordinary city. A few centuries ago it was one of the most important capitals in Europe.
This prominence was due to the trade with the lands founded by the Portuguese Discoverers in Africa, Asia and America.
This trade created immense wealth for the country resulting in the construction of the many fine buildings.
By the 18th Century the city suffered a devastating earthquake and its rebuilding was considered to be an outstanding achievement.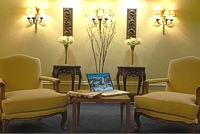 Even today, Lisbon pays tribute to the men responsible for that project, the Marques de Pombal, having his statue in the centre of the city.
This is a city to be discovered slowly, either on foot or, using the trams and funiculars.
Near the hotel there are a few "Casas de Fado" which are restaurants famous for having live Fado shows in an intimate atmosphere.
Nearby, near the coast line, villages such as Sintra, Cascais and Estoril are fascinating and worth a visit.
There are a number of excellent golf courses in the area, please click here for detials.