Attention to detail is reflected in the accommodation. Lawrence's has a sophisticated ambience where each room is unique and all bedrooms are individually named. There are 5 Suites and 11 bedrooms all ensuite and, unusually for Portugal, all have king size beds (2 metres by 2 metres).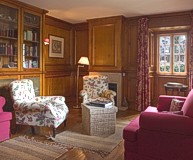 The Hotel is many times described as a restaurant with rooms rather than a Sintra hotel. The quality of the restaurant was affirmed recently when the Prime Minister of Portugal was quoted in a newspaper review as saying that this was his favourite restaurant in Portugal.
All food is prepared fresh each day and the hotel boasts that it does not even have a deep freeze.
Lawrence's Hotel has several very comfortable sitting rooms and a small bar.
When staying here, do not be surprised if you think the faces of the other guests seem familiar. In the first year after renovation, visitors included two Queens and two Heads of State. Another regular visitor is a former United States president.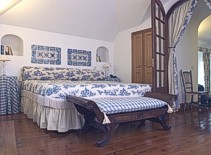 Be prepared for surprises when staying at the Lawrence's. One client told us that the guests were asked to be available for the evening and to meet in the lounge.
At the appointed time, the owners had arranged for horse drawn carriages to take all the guest to an opera which was being performed in the town.
Hotel facilities and services include wireless internet in the lobby, lift, air conditioning, 24 hours reception and babysitting (extra charge).
The hotel is located in Sintra which was the residence of the Court during the summer when Lisbon becomes very hot. The town is on a ridge of Sintra Mountain and faces the northerly winds that blow along the coast most days in summer.
This has resulted in the construction of a number of Palaces, fine houses and gardens of which many are open to the public.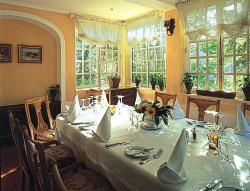 The terrace of the hotel looks out over the coastal plain towards the ocean where the long Atlantic beaches are a paradise for surfers and wind surfers.
An old tramway connects Sintra with the coast whilst a modern railway has a train departing from Lisbon, Portugal's exciting capital city, every 15 minutes.
Visitors may care to visit the Sintra / Cascais Natural Park.
There are a number of excellent golf courses in the area, please click here for details.