Built in the beginning of the 16th Century, this Convent was later converted into a Fort for the military defence of the town.

Located in the historic center of the city, the Forte de Sao Francisco Hotel, classified National Monument since 1938, is housed in an area of 18.622m², inside imposing walls and surrounded by magnificent gardens. Maintaining its architectural design, the hotel has 58 rooms totally equipped.

Over the centuries, Chaves (meaning 'keys') has been fought over by the Romans, the French during the Peninsular War, and repeated Spanish invaders.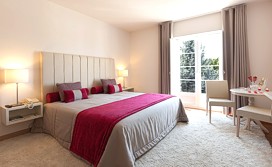 Thermal springs and nearby gold deposits encouraged the Romans to establish an important stronghold here in AD 78.
Located about 12 kilometres from Spain, Chaves today is a lively market town famous for its spa, historic centre and tasty presuntos (smoked hams). It is also known as the regional capital for northern Tras-os-Montes.
The fort was extensively and carefully renovated for over 10 years after being left without any use for a long period. Is has been converted into a delightful hotel offering comfort and luxury in superb surroundings.
The hotel is surrounded by almost 15.000 sq. metres of gardens and terraces. The Convent has a private church and a beautiful chapel.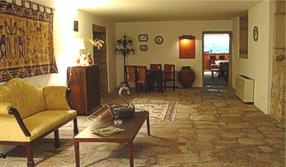 The hotel has a total of 53 bedrooms and 5 suites. All rooms have private bathroom, cable television, direct dial telephone, air conditioning and heating, mini bar, safe and hairdryer.
The hotel offers a variety of spaces, ranging from the sophisticated restaurant "Cozinha do Convento" to the traditional Typical Tavern, where you can taste specialties of national and international cuisine in buffet or a la carte.
The hall of the Fort is entirely dedicated to the events area. It is the ideal place to organize banquets, driven to all those seeking an exquisite location and provided with the most modern equipment.
Located in the Hotel lobby there is a Bar with a selected environment perfectly suited, whether for business or pleasure.
Facilities include restaurant, bar, elevator, air conditioning, rooms for disabled persons, outdoor swimming pool and private parking.
Directed to business the hotel offers flexible rooms, for conferences, meetings and professional encounters, with free internet access. Ideal places to carry out your projects and corporate events
The swimming pool is set in the garden and offers delightful views over the town and valleys. A pool bar open for drinks and snacks during the summer months.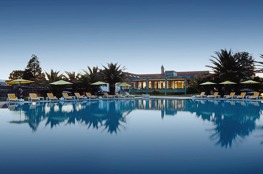 Outdoor activities include a tennis court, football area and indoors include billiard room and board games.
A few minutes on foot from the city centre is one of the hotest springs in Europe. Water here bubbles up at a temperature of 73ºC (163º F).
The spa's facilities attract both tourists and people seeking the treatment of rheumatism, kidney dysfunction, hypertension and more recently offer various personal care treatments.
Guests will find an environment dedicated to leisure, rest and tranquility, thinking in your well-being. A unique space, with a world of sensations awaits you .This hotel offers the ideal conditions to spend a few relaxing days in contact with nature, although housed in an urban environment.
Porto airport is approximately 1h 45 minutes away with almost the whole journey being by motorway.
The old pilgrimage centre of Santiago de Compostela in Spain is 202 kilometres away from the Hotel.