The Dom Goncalo Hotel and Spa, formerly Estalagem Dom Goncalo, was recently renovated and is now a four star hotel.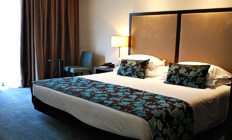 For people wanting to visit Fatima, one of the most important centres of pilgrimage in the Catholic world, this hotel is ideally located with the sanctuary being about 400 metres away.
Its importance is due to series of six apparitions of the Blessed Virgin Mary, to three shepherd children between May 13th and October 13th 1917.
Appearing to the children, the Blessed Virgin told them that she had been sent by God with a message for every man, woman and child living in our century.
Coming at a time when civilization enduring the first world war, she promised that heaven would grant peace to all the world if her requests for prayer, reparation and consecration were heard and obeyed. She also gave the shepherd children three secrets that were entrusted to the Pope.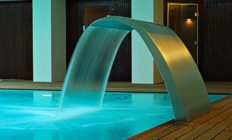 At the last apparition in October 1917, over 70,000 persons gathered and saw the sun intensifying to a blinding ball of fire with multicoloured beams of light coming to earth.
Pope John Paul has made three pilgrimages to Fatima during his Papacy.
The Dom Goncalo Hotel and Spa has a total of seventy one bedrooms, including four suites and one bedroom for disabled guests. All bedrooms are beautifully decorated and are fully equipped with private bathroom, hair dryer, heater towel rail, air conditioning, central heating, direct dial telephone, satellite television, safe and mini bar. Bedrooms with king size beds are also available.
The Dom Spa has an indoor swimming pool, sauna, Turkish and tropical bath, Jacuzzi, Fitness center and a wide range of beauty and health care treatments.
O Convite restaurant serves traditional cuisine of the region as well as international dishes. The wine list features some of the best wines of Portugal.
Other facilities include a bar and an elegant lounge with very comfortable seating and spacious reading areas and wireless internet access in public areas.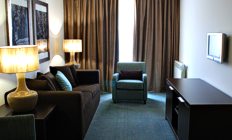 The Hotel has excellent facilities to hold meetings, conferences or private functions. There are a total of five rooms accommodating a maximum of 300 people, with modern and sophisticated audio-visual equipment.
Other facilities include private parking, garage and children's playground.
Nearby are the historic towns of Tomar and Ourem which featured prominently in Portuguese history. Tomar was the headquarters of the military order of Knights Templars.
Other places of interest include Alcobaca and Batalha, both with interesting UNESCO World heritage sites.
Lisbon airport is about 100 kilometres to the south.