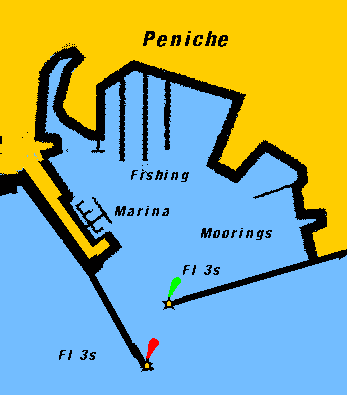 A large well sheltered busy fishing port whose attraction lies in the eating of sea food rather than its beauty.

A pontoon, with water and electricity, has been laid on the west side of the harbour to which visitors should lie alongside. The authorities operate from a patrol boat in the marina whilst the port officials, who own the marina, operate from a car.

If arriving late make sure that you take an agile member of the crew to re-open the automatic gate to the pontoon from the inside.

It is believed that anchoring is still permitted in the south-eastern part of the harbour in good holding but a trip line is recommended.

In southerly winds the motion in the harbour can make your fenders ride up above the pontoon.

The Forteleza above the pontoon is well worth a visit Its dungeons have held the defeated troops of Napoleon, liberals wishing an end to the monarchy, German prisoners in WW1 and political prisoners under the Salazar dictatorship. It has also been home to refugees from the colonies after the overthrow of the dictatorship in 1974.

A visit to Obidos can be made by bus.

The first week of August is the festival of Nossa Senhora de Boa Viagem with the blessing of the Virgin at the harbour followed by dancing in the streets and fireworks.