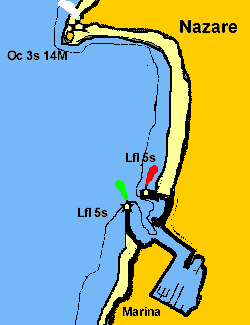 Nazare is a new fishing harbour with a straightforward entrance between two moles in deep water. Although facing the predominately north western swell, the waves do not break at the entrance and dissipate themselves in the outer harbour.

The marina is in the southwest corner and visiting yachts usually moor alongside the end of the pontoons.

There are 14 visitors berths in depths of 4 - 5 metres and 1 yacht of up to 25

The management of the marina is now in the hands of Capt. Mike Hadley whose cruise ended at this marina and from where he now runs Celtic Marine Services. Most services can be arranged and contact by mobile telephone on 00 351 9680 74254. The email address has recently changed to celticmarine@clix.pt.

At the marina there is a small general store with a very helpful owner.

The town is about 3/4 of a mile to the north and is well worth a visit for good restaurants and colourful fishing boats pulled up on the beach. You will see many examples of traditional dress still being worn. The old town is on the cliff and can be reached by funicular railway from the top of the beach.

The inhabitants have straight thin noses and grey eyes and are thought to be descendants of the Phoenicians. This influence can also be seen in their boats which are long and narrow with an eye painted on each side below the high prow.

A number of visits can be made to the interesting towns of the area including Batalha where the Abbey is the burial place of Henry the Navigator. Other visits are to the old walled town of Obidos and a pilgrimage to Fatima or to Alcobaca.