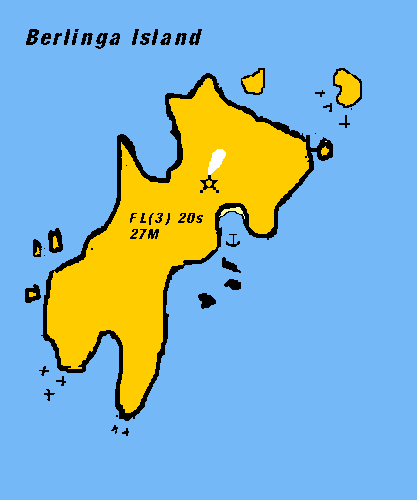 There is a good anchorage in a bay in the south-east of the island where there a some mooring buoys.

The island was once inhabited by monks who prayed and helped sailors in distress. In spite of this they were so troubled by pirates that they rebuilt their monastery as a fort on an island. connected by an interesting bridge.

The island is a nature reserve with many seabirds and the associated danger. In some areas access is forbidden.

There is a bar-restaurant whose owner has been known to act as boatman. In addition there is a very basic shop.

The adventurous may like to take their dingy through the Furado Grande, a long tunnel to Cova do Sonho (Dream cove). The clear seas make this a good anchorage for those wanting to snorkel or dive.

The Town Council of Peniche has a very good site on Berlenga Island. Use the link to other pages below.