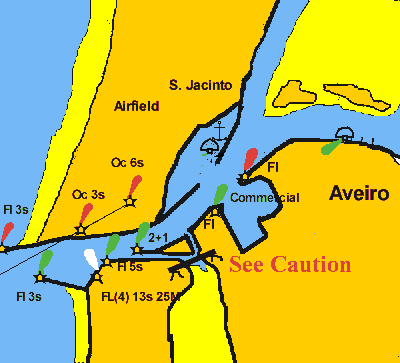 This port should be treated with the utmost caution. It is the first commercial port to be closed due to bad weather. This is often caused by the atlantic swell which may not accompanied by wind.
It is suggested that entrance is only made in calm weather in the summer months after check of Navtex for wind and wave forecasts and port closures. Wind against tide should be avoided and it is usually best to enter shortly before high water. Entry should not be attempted if the waves are, or are forecast as, 1.5 metres or more.
Caution - A yacht entering at night, turning to starboard after the southern breakwater towards the inshore fishing harbour hit live high tension power lines with its mast in July 1998. This line is unlit but marked with balls and has an estimated safe clearence of under 10 metres. Further information has been requested from the authorities.
Although there is a vast area of waterways inside the entrance, most cruising yachts will be limited to the anchorage at Sao Jacinto.
The entrance to this anchorage has been dredged to 6m and a regular ferry now operates to Aveiro from Sao Jacinto. Enter between the breakwaters and leave the green buoy to starboard before heading for the northernmost corner.
The more adventurous, who can take the ground, will enjoy following the ria north. At the top there is a small shallow marina with local facilities.