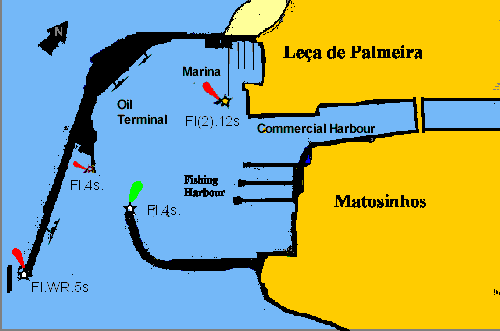 A friendly marina but its situation, in the corner of a major fishing, shipping and oil port will probably result in the crew cleaning the waterline at the next stop. In addition, an oil refinery is upwind on the prevailing northerlies.

In winter, the southerly gales cause swell in the marina and boats left unattended should not be berthed by the marina entrance.

On arrival from the north give the west breakwater a wide berth due to obstructions and proceed to the north east corner where the marina is protected by a second breakwater. The reception berth is on the port side at the entrance.

The marina is a short taxi ride from Porto Airport with daily flights to all the major centres of Europe. A bus leaves from outside the marina for Porto. Opportunity should be taken to go by bus to Porto and visit the Port Wine Lodges.

There is an excellent sail loft near the airport at much cheaper rates than the UK. The firm is called Pires de Lima and requires a taxi from the marina. Ask the marina staff to write down directions for the driver.

There are three yacht clubs based at the marina. Recommended is the club on the left at the end of the visitors pontoon, press the bell on the wood and glass door next to the small chandlery. The door will be opened by remote control. The toilets are of a higher quality than at the marina and there are also showers. Please do buy at least a drink to repay the kindness.

There are restaurants if you go out of the marina, cross the road and continue to the village square.

Regulations say that visiting vessels cannot anchor in the harbour and must now use the marina but this is not usually enforced.