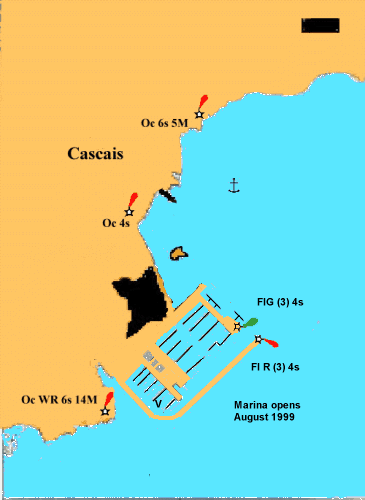 The new marina is a welcome addition to the many yachts who pass down the Portuguese coast.

It is hoped that it will also persuade more persons on the trade wind route across the Atlantic to come and visit this fascinating country to which sailors owe so much.

The marina has all the facilities of a top quality marina including berthing for vessels for recreational vessels of upto to 35 metres in length in the marina and up to 50 metres on the external pontoons. There is 6 m. of water and the tide has an amplitude of 3.6 metres at springs.

The travel hoist has a maximum lift of 70 tons and there are special facilities for the collection of waste oil, bilge water and holding tank effluent. There is also a tidal grid. For those thinking of leaving their boat there is controlled access to the pontoons and 24 hour security.

The waiting pontoons are immediately to starboard on entry into the marina.

There is a good anchorage to the east of the marina in the the south-east facing bay but, it is subject to down drafts in the afternoon northerlies. It is not recommended in winter when there can be southerly winds which are rare in summer.

The railway station in the town has trains making the 30 minute journey to Lisbon.

Unfortunately the original fishing village of Cascais was nearly all pulled down to make room for an hotel but even so, it is an attractive bustling town based on its bars, restaurants and night life.

There is a small fishing museum on the north side of the park opposite the Pavilao de Cascais.