Peso da Regua, to give it the full name, is the centre of the Port wine growing region.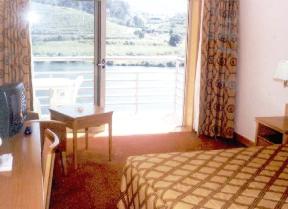 The town has been known for over two centuries as the "Capital of the Upper Douro" because of its role in the Port industry. Regua is also the junction and the depot through which all the wine must pass on its way to Porto.

Once in the area, guests should take the opportunity to visit "Casa do Douro" to learn about the history and production of Port Wine. Also displayed in this house is a map of the Douro Valley drawn in the mid 19th Century by Baron Joseph Forrester, an enterprising Englishman who reformed the port trade after joining his uncle's wine company in Oporto.

The attractive Manueline Church of Sao Nicolau in the charming village of Mesao Frio, approximately 12 kms from Peso da Regua, features late 16th Century ceiling panels.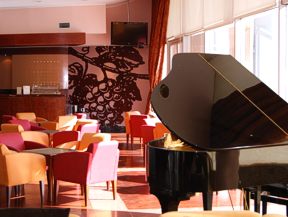 The hotel is privately owned and was opened in 1999. It has a total of 77 bedrooms including 10 suites, non smoking rooms and rooms for disabled persons.
All rooms have private bathrooms, satellite television, direct dial telephone, air conditioning and heating, double glazed windows, mini bar and hairdryer.
The superior rooms and suites are the most sought after as they have balconies and views over the Douro Rriver.
The Lobby Bar is elegantly furnished and has doors opening out to a veranda with beautiful views over the pool and Douro River.
The hotel has two restaurants located on the top floor offering a range of regional and national dishes from an 'A la carte' menu and "Brunch" every Sunday.
Facilties at the hotel include an elevator, Health Club, games room, outdoor swimming pool, children's swimming pool and private parking.
Regua Douro Hotel also has 6 conference rooms for up to 400 people, all with audio-visual equipment.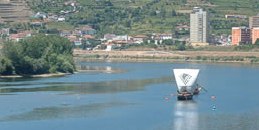 The swimming pool is located on the terrace facing the river.
The best way to arrive at this hotel must be to take one of the boats going upriver from Porto and see the magnificent scenery with the terraced vineyards.
For those traveling by car, Porto aiport is approximately a 1hour and 30 drive with almost the whole journey being by motorway.