Built in the 1950's the Hotel Infante Sagres is reminiscent of 19th Century Portugal in its style, and is the first choice in Oporto for those who appreciate luxury, comfort and tradition.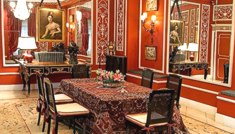 The hotel is situated in a square near the Town Hall and Oporto's famous thoroughfare, Avenida dos Aliados in the centre of Porto.

It is a short walk down to the river front which has many bars and restaurants. This area is where cafe life can be sampled without the dangers of most of the other major cities of the world.

Time should also be taken to visit one of the Port Wine Lodges on the other side of the river in Vila Nova de Gaia. Nearly all the lodges have guided tours which explain the fascinating process that is required to make the world famous Port Wine.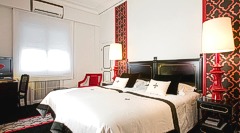 This luxury hotel has been visited by many Kings, Presidents and other distinguished visitors.
Although its splendid furnishing and decoration recall another age, the hotel was only built in 1951.
Beside being the leading industrial city in Portugal, Porto is a UNESCO World Heritage City and, in 2001 it was 'The European Capital of Culture´.
In 1990, the hotel was completely refurbished to bring it up once again to exceptional modern standards. The Hotel Infante de Sagres prides itself on its excellent service.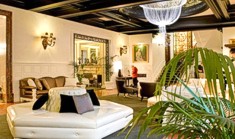 All of the 73 bedrooms and suites are stylishly furnished and have large en-suite bathrooms, double glazed windows, local and satellite television, radio, direct dial telephone with ASDL internet connection, mini bar and hairdryer.
The unique and very intimate Bar Ceuta, offers a wide variety of original cocktails and has become the favourite meeting place for pre dinner cocktails and drinks.
The D. Filipa restaurant serves breakfast, lunch and dinner. Guests have a choice of traditional and international cuisine in a pleasant stylish atmosphere.
There are elegant and comfortably furnished lounges and also 'O Patio', a uniquely beautiful spot used in summertime, for serving outdoor lunches and romantic candlelight dinners. The hotel also has a solarium.
There are a number of excellent golf courses in the Porto area.