The Palace is classic Manueline in style and has antiques and fine paintings adorning the rooms. It is situated in the middle of 250 acres of woodland originally planted by Carmelite monks. Here you will find trees from the New World discovered by the famous Portuguese sailors.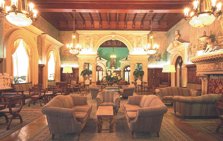 The Battle of Bucaco was fought on the ridge just above the forest in 1810, and it marked the first serious defeat suffered by Napoleon in his campaigns in the Iberian Peninsula.
The Bucaco Forest is the country's most famous and most revered woodland. It features over 700 species of trees of which some are rare local varieties and others from the Americas, Asia and Australia.
The forest paths are a delight and lead you to exotic plants, waterfalls, lakes and gardens.
Benedictine monks established a hermitage in the midst of Bucaco Forest in the sixth century and over the years many small chapels and grottoes have been built.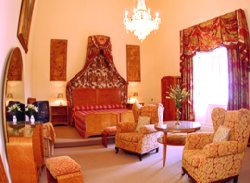 The present Palace was built on the site of the old monastery as a summer retreat for the Portuguese monarchy.
The Palace itself was completed in 1907, only three years before the declaration of the Republic and the end of the monarchy.
At Bucaco you can see the remains of the original 'Mosteiro dos Carmelitas'. On show are famous prints by Afonso Mucha and also a famous sequence of azulejos (painted tiles)depicting the Portuguese conquest of Ceuta and also the Battle of Bucaco.
The hotel boasts a superb restaurant and a wine cellar of great renown. The incredible Bucaco Wines, ' mis en bouteille au chateau', are also a legendary specialty not available elsewhere.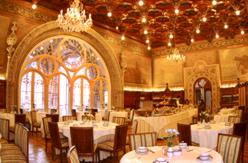 The Bucaco Palace Hotel has 60 bedrooms, some with balcony, and 6 suites all luxuriously furnished. The rooms have a private bathroom, satellite television, radio, international direct dial telephone, mini bar and hair dryer.
The exclusive dining room serves excellent Portuguese and classic cuisine and is one of Portugal's most renowned restaurants. It has a romantic terrace overlooking the park.
The Lobby bar is the perfect setting for enjoying the old rare wines and the exquisite liquors in distinguished ambiance.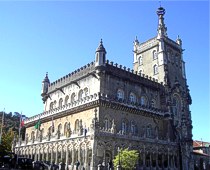 Facilties at the Hotel include helicopter and limousine service, games room, television / video room and car park.
It is a magical, peaceful atmosphere to which you are sure to fall in love. It is ideal for long walks among beautiful gardens and the splendid forest of exotic plants, rare birds, spas, sacred pathways and chapels.
Because of its central location within the country, the Bucaco Palace Hotel can be used as a base for exploring Coimbra, Fatima, Viseu, the Douro Valley and the Atlantic coast.
The facilities at the Curia Palace Hotel, 15 kilometers away with outdoor pool, tennis courts, mini golf, are free to all guests of the Hotel Palace of Bussaco.