Funchal, the island's capital, with Manors and gardens that descend into the ocean, evokes in some, ideas of the Garden of Eden..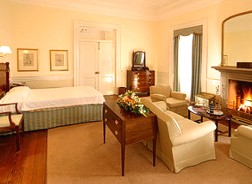 Madeira was discovered quite by chance by Zarco in 1419, and named after the forest that once covered the island ("Madeira" meaning "wood" in Portuguese). The island became a regular port of call for trading ships to the New World and later to India.

The rugged peaks we see today are the highest points of a massive sub-marine mountain range raised by volcanic eruptions around 20 million years ago (the Canaries and Azores appeared at the same time).

Consequently, Madeira is blessed with rich volcanic soil which supports a myriad of exotic plants and flowers both native to the island and brought from foreign climes during the Age of Discovery.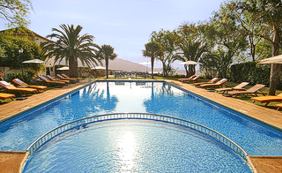 The hotel is located in an elevated position with spectacular views over Funchal bay and has 20,000 square meters of old mature beautiful gardens where peace and tranquility reign.
The original house is very luxurious, it still retains the feeling of a private house with fine paintings and beautiful antique furniture.
There is an elegant a la carte restaurant renowned for its first-class cuisine, and in one of the annexes there is another attractive restaurant which serves buffet breakfast and table d'hote lunches and dinners.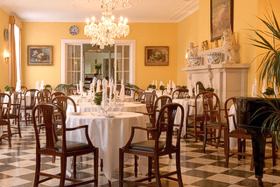 Quinta da Bela Vista has a total of 89 rooms (10 are interconnected). The Old House contains 4 suites and there are 3 junior suites in the new annexe that has superb views over the bay and sea.
The remaining accommodation is also located in the new annexe.
Some of the twin rooms offer a garden view There are also 'de luxe' rooms with large balconies and 'superior' twins with balcony.
All rooms have a private bathroom, mini bar, cable television, wi-fi, telephone, air-conditioning, safe and hair dryer.
Facilities at the Hotel include 24 hour room service, billiard room, solarium, gymnasium, jacuzzi, sauna, heated outdoor swimming pool, tennis court, lush spacious gardens and car park.
A courtesy mini-bus between Quinta da Bela Vista and the centre of Funchal is available 8 times per day (Monday to Friday and Saturday morning).
The hotel has special rates at some golf courses.