Estalagem Jardins do Lago is part of a large property located in the hills which surround the city of Funchal on the Island of Madeira.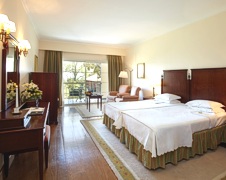 It is just 1,5 kms from the town centre and close to the islandīs main attractions and points of interest.
This luxurious and intimate hotel is set in an historic house providing superb service and first-class accommodation.
The Estalagem was built in the 18th Century and was formerly a family home. Later, it became the home of well known French and British families.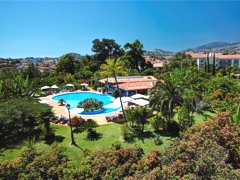 During the Napoleonic Wars, General Beresford, the Commander of the British forces on Madeira, chose it as his residence. His magnificent sideboard, a reminder of his stay, still adorns the dining room.
The houses' interior was refurbished and decorated in order to maintain its original high standard being a perfect setting for its antiques.
The Estalagem has 5 Premier suites, 4 Junior suites and 31 double rooms, all facing the gardens and the sea.
The accommodation has been designed with style and comfort in mind.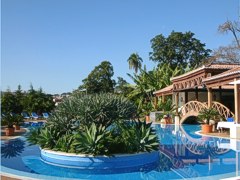 All bedrooms feature a marble bathroom and have a sitting area, air conditioning and heating, Cable television, direct dial telephone, safe, mini bar, bathrobes and hairdryer. ISDL in the bedrooms is available under request.
Facilities at the hotel include Botanical gardens, restaurant, 2 bars, library with ISDL, games room, swimming pool, gymnasium, jacuzzi, sauna, wi-fi in public rooms and bars, turkish bath and parking.
For children there is a room with toys, books, etc and for older children there is a games room.
There is also a playground area in the garden and a small heated swimming pool for children.
Children under 8 years old are not allowed in the Beresford dining room. Dinner for children is served in the Pink room.
Jardins do Lago has baby sitting service under request.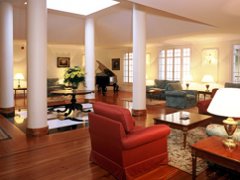 The property has a 2,5 hectare garden, where guests can admire beautiful and unique trees, some being rare, old species.
The Hotel takes its name from the lake, (when translated means Gardens of the Lake) which is located in the tranquillity of the mature gardens.
The gardens have trees brought from many different countries like Australia, Argentina, Japan, China and Africa. Many of these trees were planted in the early 18th Century.
The different owners of this house have always kept in contact with various Botanical Gardens worldwide and invested love and time improving this relaxing and colourful garden.
There are a number of excellent golf courses in the area, please click here for details.
A mini-bus between Quinta Jardins do Lago and the centre of Funchal is available 4 times per day, 5 days per week.