This beautiful hotel was built in 1804 as a hunting Lodge for the first Count Carvalhal and is now a luxury Country House Hotel.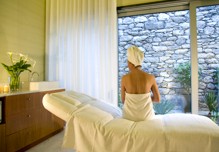 The island of Madeira is off the coast of Africa which makes it an ideal winter holiday location. As it is surrounded by water, the summers are also warm and comfortable.
The all year sunshine and the mild temperature provide a beautiful climate especially suitable for the flowers and fruit which grow in the fields and around the natural pools.
The scenery is of rugged mountains with spectacular panoramic views contrasting with the green of the countryside. The fields contain vineyards, banana plantations and brilliant tropical flowers.
Casa Velha is the only hotel on the island situated on a golf course. This 18 hole par 72 course was designed by Cabell Robinson in 1993 and is skillfully set in the estate and parkland of the property.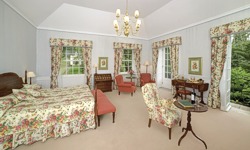 The hotel is approximately 7 kilometres from the centre of Funchal, the capital of Madeira, and is situated in the hills to the east of the town, between the Palheiro Gardens and the golf course.
The accommodation comprises 3 Junior suites, 7 double Main House rooms in the "Old House", 14 double Garden Wing rooms in the "Garden" building and 3 senior suites and 10 double Golf Wing rooms in the 'Golf' building.
All rooms have ensuite bathroom and all senior suites and double Golf Wing rooms have an additional, separate shower cabin. The senior suites also have whirlpool baths.
The rooms also have writing desk, central heating, direct dial telephone, cable televison, video/DVD and radio (on request), free safe, minibar and a welcome gift on arrival.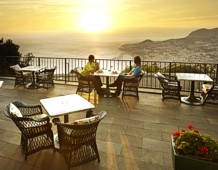 Other facilities include 24 hour reception, room service, restaurant, bar, terrace, morning room / library, meeting room / television room, outdoor swimming pool, billiards, table tennis, tennis, dry cleaning & laundry service and a private car park.
In addition, the hotel has gardens, all weather floodlit tennis court and a Spa with indoor swimming pool, sauna, steam bath, 4 treatment rooms and a large selection of treatments and massages.
The hotel has an elegant dining room, surrounded by beautiful gardens, serving fine cuisine.
The Palheiro Bistro Restaurant is located in the clubhouse and serves light meals during the day. It has a panoramic terrace and has breathtaking views overlooking the Bay of Funchal.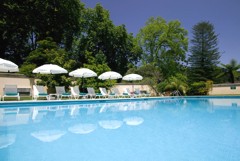 The Casa de Cha, located within the Palheiro Gardens, serves wonderful homemade cakes, pastries and light snacks. There is also a Pool Bar which serves drinks, sandwiches and light meals.
Madeira is the largest island and most inhabitants live in Funchal. The other inhabited island is Porto Santo and there are two groups of uninhabited islands, the Desertas and the Selvagens.
Funchal's caters for the holiday maker with bars, restaurant, discotheques, marinas and a casino.
Madeira, famous for its fortified wine, also produces red and white table wine which complement the local dishes served in the restaurants.