Vilamoura has been architecturally designed to create a spacious and pleasant holiday destination in Portugal's famous Algarve.

The main feature of Vilamoura is the large, very attractive marina which has many shops and outdoor cafes in front of which people promenade. Near the marina there are long, stunning sandy beaches.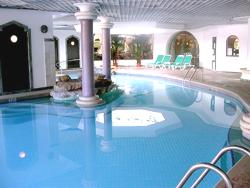 This superb resort has beautifully designed, furnished self catering apartments most with balcony or terrace. The apartments have either, 2 bedrooms (T2),1 bedroom (T1) or, studio apartments (T0).
A limited number of T2 can be combined with studios by an inter-connecting door making a three bedroom apartment.
All apartments, with the exception of the studio's, have a sofa in the sitting area which can be converted into a bed for 2 persons.
All apartments are air conditioned and have a fully equipped kitchen, cable tv, a telephone, washing machine, dryer, ironing board and hair dryer.
Four Seasons Resort has an impressive clubhouse, indoor heated swimming pool, outdoor swimming pools, children's pool, squash, saunas, jacuzzi and fitness center. It provides year round activities for the whole family.
There are many sun beds dotted around the swimming pools and drinks and light snacks are served here. Lunch is also served outside on the terrace on hot summer days.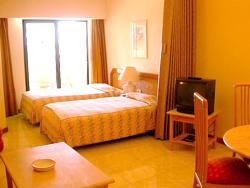 The clubhouse has a bar and a very spacious lounge area which features a very impressive, large water wheel and very comfortable leather armchairs and sofas.
Other on-site facilities include health club, restaurant, snack bar, live entertainment (on a regular basis), snooker, pool table, table tennis, hair dresser, laundry service and child care.
Vilamoura also has much to offer visitors including tennis courts, horseback riding, casino, lawn bowling, fishing etc.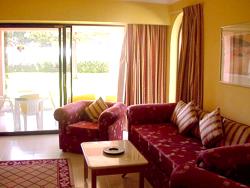 For the golfer there are guaranteed starting times on the three 18 hole courses at Vilamoura and also the various courses at Quinta de Lago. Four Seasons has negotiated generous discounts for their residents.
It is necessary to book well in advance for the guaranteed times - normally 12 weeks before the beginning of the month of play.
The Four Seasons Resort is approximately 1 kilometre from Vilamoura marina and has one of the three golf courses on three sides. Next to the resort is 'The Old Village' complex where it is possible to purchase groceries etc.
The apartments are offered on behalf of the individual owners and changeover day is subject to their agreement.
Pets are not allowed.