MADEIRA & PORTO SANTO
Accommodation in Madeira Island of Portugal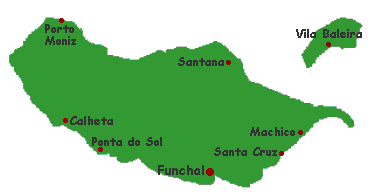 Click on the town for accommodation in the area
General Information about Madeira
Madeira covers 741 square metres and is 500 kms from Africa and 1000 kms from Portugal. The island is 57 kms long and 22 kms wide. The Archipelago consists of Madeira, Porto Santo and the uninhabited islands of Selvagens or Desertas. The islands were discovered by the Portuguese in 1418 causing quite an impression among sailors due to its beautiful and exuberant nature.
Five Natural Reserves were created in the Archipelago in order to preserve its unique environment where some unique species of plants and animals can be found.
It has a mild climate throughout the year with temperatures between 16 ēC and 25 ēC. There are spectacular landscapes, luxurious vegetation and many historical sites to fascinate visitors. This archipelago has a natural heritage of great scientific value and is designated by UNESCO as World Natural Heritage site. Accommodation in Madeira and Porto Santo is noted for its high quality, good taste and hospitality.
There is a wide range of accommodation from the small traditional hotels to the more modern establishments. Madeira has a large network of irrigation channels, called "levadas", which are used as paths for walkers and nature lovers. Overlooking a wide sheltered bay is the city of Funchal. It is a place full of charm with a surprising calendar of events highlighted by the Flower Festival and Carnival. Handicrafts such as the traditional embroidery and the basket work require great talent. One of the most famous products of the island is the Madeira wine, responsible for the name of the island being known throughout the world.
The other inhabited island of the archipelago is Porto Santo which is 40 kms away. Visitors can reach it by modern ferries departing from Madeira on a daily basis. Although this is much flatter than its "mother-island", there is a wonderfully extensive beach, with sands that are famous for their great therapeutic properties. At Vila Baleira, the island's picturesque capital, is the house where Christopher Columbus once lived.
Sir Winston Churchill used the island of Madeira as one of his favourite holiday retreats. Other well known visitors included Empress Sissi of Austria, Emperor Karl I of Austria or George Bernard Shaw.
Hotels - Madeira - Portugal
Funchal
Reid's Palace
5 star
Considered to be amongst the world's finest hotels, Reid's has become famous for its discreet and impeccable service. Well known as a favourite haunt of Sir Winston Churchill.
Funchal
Quinta da Bela Vista
5 star
Family owned and managed hotel, three kilometres from the centre of Funchal. Features large, mature gardens.
Funchal
Casa Velha do Palheiro
5 star
Former hunting Lodge now a Country House Hotel. The surrounding park has an 18 hole golf couse.
Funchal
Quinta Jardins do Lago
5 star
Old country house converted into a leading hotel, one mile from the centre of Funchal. Large gardens with a lake.