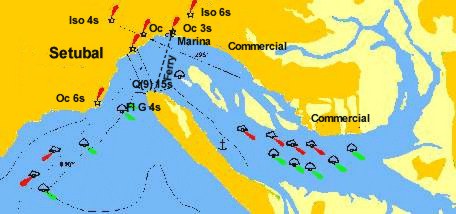 A new marina has been established at the west end of the Doca de Comércio used by the car ferry crossing to the Troia peninsular The former Doca de Recreio is now only used for local vessels and does not have enough water for most cruising yachts.
The river is well marked with fixed mavigation lights and buoys.
Sesimbra is Portugal's third largest commercial port and has lost much of its previous visual charm but remains a vibrant city. The Igreja de Jesus is well worth a visit.
The marina makes an alternative for those wishing to visit Lisbon since there is good train and bus services.



Yachts may also anchor south east of the conspicuous São Filipe fortress. Or try moving up the Sado river using a Portuguese chart to anchor off the sandy beaches.
For those able to take the ground, a journey up the river is interesting. The Portuguese are the biggest rice eaters in Europe and the River Sado slowly flows through paddy fields and is navigable for 27 miles until just before Alcacer do Sal.
There is an attractive anchorage off Portinho da Arráriba which is situated about 1 mile to the north of buoy no. 2 of the Setubal channel. The bay is protected by offshore sand banks and it is suggested that Setia Channel is used. For this approach the cliffs on the shore from the south about 0.5 m west of the bay. Run east along the coast keeping about 2 cables from the shore.
Portinho da Arráriba should only be used in summer in settled weather.