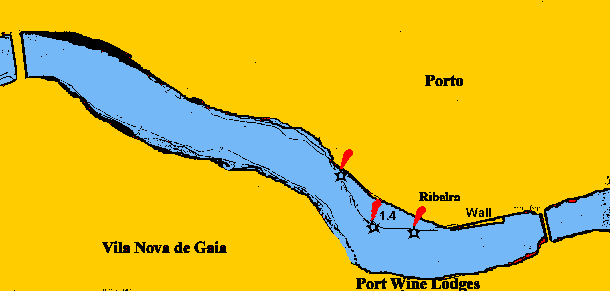 Known as 'Porto' to the Portuguese with O Porto translating to The Port.

Going upriver into Porto is not recommended except in calm conditions since the entrance is dangerous in any swell. Be prepared for local boats using the buoys for mooring and obscuring the mark.

Vessels can lie alongside the quay in the Ribeira area of Porto in front of the hotel boats. The berthing is restricted to one vessel alongside with other boats moored alongside. Due to the hotel boats and the configuration of the quay, only the inside two boats can get lines ashore. The ebb can flow past this point at 6 knots.

In view of the current, anchoring in the river is dangerous and probably prohibited.

Vessels should not enter in winter as the entrance may close and the river is liable to flooding if the control dams are overwhelmed giving a water level considerably above the quayside.

The airport is to the north of the city near Leixoes harbour.

Yachtsmen should call in at Pub Petisqueira for a beer or pub lunch, browse through the visitors book and add to the entries.

A summers cruise up the river, which is navigable for 200 kms, is well worthwhile. Due to low bridges (6.6 metres clearence), most yachts will have to have their mast removed. Povoa de Varzim marina is recommended for this.

Navigation in the river is controlled and arrangements have to be made for the working of the locks at the dams. Because of the limited traffic these are only operated once per day except on extra pament. Contact me for additional information.