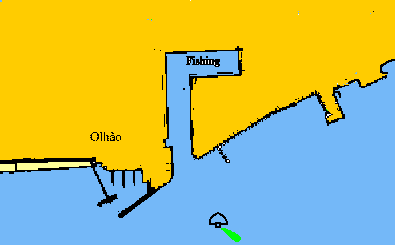 The anchorage is just off the channel into this fishing harbour. Most people prefer to anchor at Culatra Island and use the ferry service into Olhao.

Recreational craft cannot go into the fishing harbour and the marina is not suitable for cruising yachts.

The Capitania say that yachts may lie alongside the south east side of the pier if staying for a short period. The main south west side must be kept clear for the ferries.

A marina is planned to the west of the pier which is the reason for the entry of the port in this guide!

The tourist office think the main attraction of the town is that it is the home of the Algarve poodle which was helping fishermen until the 1950's. Apparently this poodle dived to a depth of over four metres to guide the fish into the nets. They can be seen, but do not give demonstrations, at the Parque Natural about 2 km east of Olhao.