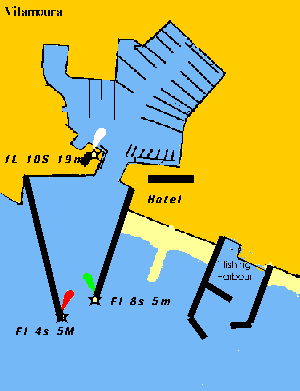 Vilamoura is a private town constructed over the past 20 years. The marina was the first construction to attract marina side developments.

There was a lot of initial criticism due to the surrounding building work and lack of knowledge of the requirements of marina users.

With the marina side development complete, it is now an attractive and vibrant place and is the 'in place' to promenade in the evenings. Due to its length many use roller blades for this activity! Prices in this area are high and lower prices can be found further away form the waterside. A visit to to the neighbouring town of Quateira is a possibility for those wishing restaurants away from the tourists.

More recently, a change in ownership of the management company has led to changed attitudes and there are now toilet and shower blocks in three places and a free water taxi service operated by marina boatmen.

The sports facilities of the town are excellent but do need finding. They include lawn bowling, swimming, golf, riding, squash, tennis and shooting

The administration building does not yet give the impression of a friendly place however, the marina administration shares the area with the marine police and customs. The authorities do have a major problem with drug trafficking since many boats arrive from Morocco where drugs are legal.

Marina prices are similar to Lagos and in both places, if a night time departure is planned, it is necessary to check out the previous night and move to the reception pontoon.

The are plans for an additional waterside development to the west of the present marina and it is reported that it will incorporate houses with berths attached.

A new fishing harbour has been constructed at Quarteira and its entrance is very close to that of Vilamoura. It is advisable when coming from the east that you confirm that you have the right harbour - The fishing fleet already have enough entertainment from the errors of other yachtsmen!