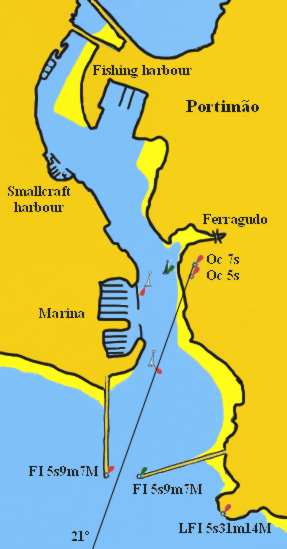 Good anchorage can be found off the beach on the east side of the entrance but the passing of fishing boats causes continual swell.

There are beach restaurants on the sand at the anchorage and Ferragudo has the services of a small town including a good restaurant at the quay.

The pontoon in the river near the bridge is not recommended due to the strong tide running along it. If using make sure that you study the tide table to enter and leave, bow to the stream. It will be too strong for the boat to be warped around.

The river front gardens are the best part of Portimao and the fish restaurants by the bridge are famous for sardine lunches.

This is another town almost totally destroyed in the 1755 earthquake but was rebuilt to become a busy port.

In the past, the town has been attacked by the Spanish, English and the Dutch which accounts for the forts. The citizens of these countries have had more success in destroying the Algarve way of life with their tourists than their fleets!

Praia Rocha, the most famous beach of Portugal is to the west of Portimao and near to the new marina. Those with a dingy might like to go to the quiet beach across the river from the marina, visit Ferreguda and go upriver to eat at the sardine restaurants near the bridge.
A new marina has been constructed near the entrance to the harbour.