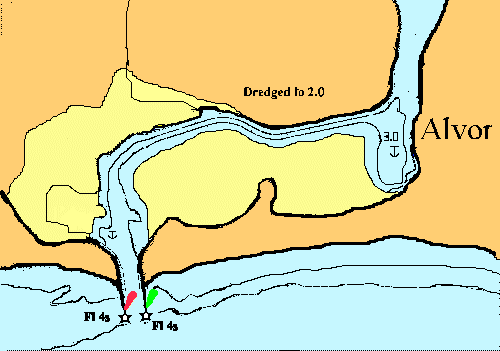 A delightful anchorage near the old fishing village with white washed houses, narrow streets and lovely views over the estuary. The tourists as well as sailors have now found Alvor so the streets are filled with bars and restaurants. The waterfront retains its previous charm and is still the work place of the fishermen. Luckily, the tourist developments are well away from the anchorage.

There are all the facilities for an extended stay with banks and a mini market open late. Water is available by container from a tap in the fish market on the quay. The 'Coastliner' bus stops at the roundabout in the village.

New moles have been constructed and the winding, unmarked channel dredged to 2 metres. Entrance for the first time should only be attempted at low water when the sand is visible to define the channel and the rising tide will correct any mistakes.

When entering between the moles, keep to the west side since there now is a sand bar running from the inner end of the east mole.

The swimming at the entrance is excellent with the water being warmed as it comes over the sands of the shallow lagoon. If anchored near the western mole for the swimming beware of the afternoon wind which usually commences about 3.00 p.m. and will be blowing towards the mole.

On the north side of the river is a nature reserve and over twenty two species of wading bird have been counted enjoying the
salt marches and sandy banks.