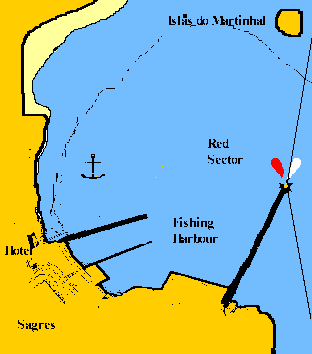 The popular anchorage for those waiting to round Cape St Vincent, although it is subject to squalls during the afternoon northerlies in summer. A trip line is recommended.

An easterly if blowing through the Straits of Gibraltar can make this anchorage untenable due to swell entering the harbour. In this event shelter could be found inside the mole keeping clear of the fishing and commercial traffic. Alternatively, shelter can be found in the bay to the west after rounding Sagres light.

There are hotels, restaurants, bars and some provisions ashore but be mindful of the increase in northerly winds during the afternoon if going ashore by dingy.

The Ilhas do Martinhal Diving School near the jetty has placed three bouys which may be used if vacant. It is hoped that 'payment' will be made by going with them for a dive over the wrecks or, by having tuition. Why not try a day course for underwater boat maintenance for beginners. Danny Pawel's, the owner, is a yachtsman and also an instructor of PADI instructors. Languages spoken are English, German, Dutch, French and Portuguese.

Sailors should make the pilgrimage to the site of the school founded by Henry the Navigator. In 1587 it was attacked by Sir Francis Drake who destroyed its contents. In 1755, what was restored was again wrecked by the earthquake and tidal wave.