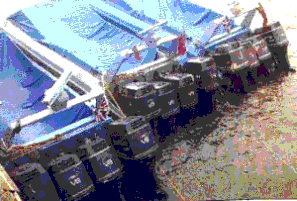 Drug boats in Viana do Castelo in 1989
In addition to the outboards, these boats had an inboard engine and carried over 3000 litres of petrol. They were used to meet vessels at sea and ran drugs into the Spanish Rias and afterwards returned to Viana do Castelo.

All the boats in the photograph are British registered but obviously do not know the difference between the ensign and jack.
They were banished from Portuguese ports by a law limiting the engine size of recreational boats, restricting permissible distance from the port and restrictions on movement at night.

Photo by Sr. Manso Preto

The west coast of Portugal is the nearest point of Europe for ships coming from the drug producing countries. The Algarve is only a short sail from Morocco where drug use is legal.

Ten years ago, Portugal was the base for many of these powerful boats which were used to meet ships at sea and then run the drugs into Spain.

The Authorities accept that cruising yachtsmen act as valuable eyes and ears and in return we receive favourable treatment.

The Authorities perform a difficult task and if they have to make a search of your boat either by random or some reported suspicious behaviour, please give then every assistance.

In ten years of sailing in Portuguese waters, I have no complaint on how they carry out their duties nor am I aware of any yachtsman who has been treated harshly, provided the usual courtesies and understanding have been shown

If you call attention to yourself by your behaviour, or tell the authorities how to perform their task, it will be interpreted as an unwillingness to assist, possibly due to illegal activity.

The questions regarding engine make and horse power of your boat, restrictions on night passages from Algarvian ports, etc. are a direct consequence of these activities and the laws to curb them.

Please try to assist the authorities in this important work in every way possible

Set out below is the text of a message to yachtsmen issued by the Portuguese authorities:

A LUTA CONTRA AS DROGAS NOCIVAS

Pela sua situacao geografica, Portugal e um pais propício a entrada de drogas nocivas na Europa, vindas da America do Sul e do Norte de África.

Temos, por isso, uma responsabilidade especial para com os outros membros da Comunidade Europeia, de tudo fazer para evitar a entrada das mesmas.

Se vir ou ouvir algo suspeito, mesmo que possa parecer pequeno e insignificante, no mar, nas praias ou nas marinas, peca, por favor, falar com o oficial de servico na Alfandega neste edifício e transmita-lhe a informacao. Nao necessita de dar o seu nome ou a sua morada nem fazer um relatorio por escrito.

Em alternativa, pode usar gratuitamente o telefone nº 21 888 12 22 ou o fax nº 21 888 58 24 para qualquer informacao. E preferível enviar um fax se for utilizada outra língua que nao seja a Portuguesa.

Por favor, ajuda-nos a ajuda-lo, bem como aos seus filhos, ao nosso pais e ao resto da Europa na luta contra a entrada ilegal de drogas nocivas na Europa.

THE FIGHT AGAINST HARMFUL DRUGS

Due to its geographical position, Portugal is the nearest country for the entry of harmful drugs into Europe from South America and North Africa.

We, therefore, have particular responsibility toward the other members of the European Community to prevent the entry of drugs.

If you see or hear anything suspicious however small or insignificant at sea, on the beaches or in the marinas, please ask to speak to the officer in charge at the Customs (Alfandega) in this building.

You will be able to give your information in a short conversation. You need not give your name or address and need not give a written statement.

Alternatively, use can be made of the central free Tel number 21 888 12 22 or Fax number 21 888 58 24 to which information can be given. A fax message is preferred if a language other than Portuguese is used.

Please help us to help you, your children, our country and the rest of Europe in the fight against the illegal importation of harmful drugs into Europe.