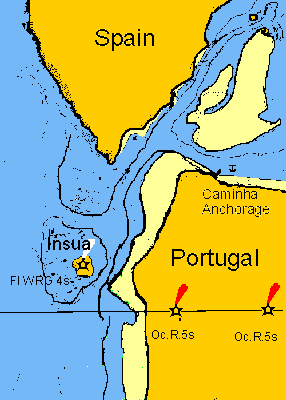 This is a dangerous entrance and should only be attempted in calm weather. Do not enter if the swell is breaking on the beach. However, it is very beautiful and worth visiting especially in a vessel that can take to the ground.

It is suggested that only the south channel between the island and Moledo beach is used. The sand has built up at Moledo beach and extends to the centre of the channel shown in the R.C.C. Guide and entrance should be made near to the island which is clear on the east side except for the rock 'bandeira" which is charted. Do not attempt to pass Insua island in the middle of the visible channel since it is likelly that this will be the steeply shelving side of the channel on which swell suddenly breaks. Keep close to the island as mentioned earlier.

Enter at half flood when the island and its rocks break up the swell and follow the channel across to the Hotel on the Spanish shore before finding the steep-to channel to the anchorage behind the point on the Portuguese shore.

There is a restaurant at the anchorage and a shop in the neighbouring campsite. The delightful small town of Caminha is about 1 mile away.

If your keel is suitable to dry out, feeling your way 15 miles upriver is very rewarding, with the town of Ceveira en route and finally anchoring between the two bridges that separate the border towns of Tui and Valenca.

The channel is subject to change. It goes between the two rocks called the "Cabres" (goats). which have beacons on them to be visible at high tide. After the shipyard cross to the Portuguese shore and after the village cross again to the island off the Spanish shore. At the north end of the island cross again to the north shore and continue upriver passing north of the next island to avoid power cables. The river then becomes narrow and deep and navigation is by eye keeping to the outside of the curves. Pass close to the north shore after the second car ferry crossing at Cerveira to avoid rocks extending from an island to mid river.