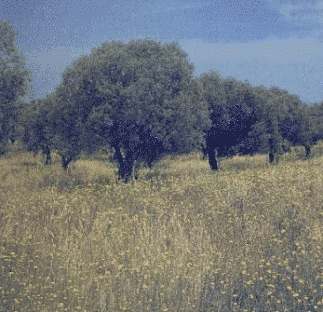 In the north and west, the finest bulls and horses roam peacefully in lush fields, and vines, such as those in Cartaxo and Almeirim, are nurtured gently by the warming sun.

This is a land of agricultural traditions and folklore. At the famous Horse Fair in Golega, in November, men dressed in bright 18th century costume put their mounts through demanding haute ecole paces; during the National Agricultural Fair at Santarem in June, you can see flamboyant bullfighting and feel the passionate, frenetic: rhythms of fandango dancing. The Portas do Sol (Gates of the Sun) were once part of Santarem's citadel walls. They open on to wonderful gardens with a panoramic view of the Tagus river snaking below, its banks covered by the famous vineyards of Almeirim, and rich pasture lands in the distance.

To the east and south lies a generous countryside of rolling uplands speckled with cork oak, olive trees and grazing sheep. Women tend the fields wearing trousers beneath their skirts and scarves tied around their heads topped with dark hats.

Magnificent walled towns and hilltop forts are legacies from past centuries. For example, mediaeval Marvao, Monsaraz and the charming spa town of Castelo de Vide, its old town enclosed within 14th century castle walls. Portalegre is the market centre of the region, endowed with beautiful manors and white-washed houses. Its fine ancient tapestries are a flourishing industry, known throughout the art world.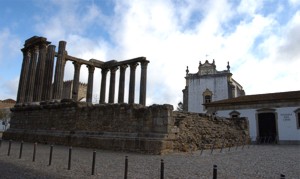 Travelling south, you will find several towns distinctive for their dazzling white marble. Estremoz has a lively market and a tradition in pottery that's changed little in style since Roman times, as well as an austere palace that's now a comfortable Pousada. Elvas is enclosed by mighty 17th century ramparts and has a remarkable tiered aqueduct. Vila Vicosa was much favoured by the Braganca Dukes (later Kings of Portugal) for its palace.
Evora is a renowned cultural centre and was given world heritage status by UNESCO. Its Roman temple, Moorish alleys and beautiful churches provide an atmospheric setting. Beja lies on the way to the Algarve and has an unhurried old quarter with a serene convent and fanciful castle, while a little further on is Mertola, an important archaeological centre, from whose castle ruins you can behold a sweeping panorama. The wide open spaces of the Planicies are not only to be found inland: all along the coast you can explore long deserted beaches whipped by warm Atlantic winds. Nowhere else can offer such endless and inviting natural beauty.
Text provided by the Portuguese Tourism Information Department
Links to other areas of Portugal
Return to Manor House index