The magnificent medieval walled town of Obidos is known as the 'Town of Queens' because of a tradition in which kings used to offer it to their wives as a marriage gift.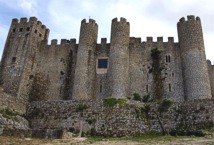 The town is stunning, full of well-preserved white houses with Manueline porticos and flower-laden window boxes; sinuous streets with romantic recesses; arcades and small squares. Interesting buildings include the Misericordia Church (15th c.), the Sao Pedro Church (18th c.) and the Sao Martinho Chapel (14th c.), the Paco Real (Royal Palace) and the perimeter of the castle walls, from which you can see the aqueduct.

This delightful town was captured from the Moors by the first king of Portugal, D. Afonso Henriques in 1148. D. Dinis later presented it to his wife, Queen Santa Isabel. From then until 1883, the town of Obidos and the surrounding land was always the property of the queens of Portugal.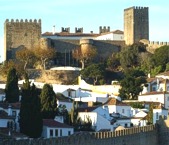 Encircled by a ring of medieval walls and crowned by the Moorish castle rebuilt by D. Dinis, which is now a stunning Pousada, Obidos is one of the most perfect examples of a medieval fortress. The town is entered through the southern gate of Santa Maria, embellished with eighteenth-century azulejo (tile) decoration.
Inside the walls, which at sunset take on a golden colouring, one can sense a cheerful medieval ambience of winding streets, old whitewashed houses bordered with blue or yellow, Manueline embrasures and windows, - reminding us that King D. Manuel I (sixteenth century) carried out major works here - and masses of colourful flowers and plants. In one of those streets, is the Casa das Senhoras Rainhas offering quality accommodation and featuring a wonderful restaurant.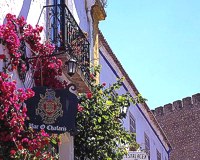 Being so close to Lisbon, this is one of the most picturesque and most visited sites in the country, hosting countless cultural and tourist-oriented events.
Among the events that take place every year in Obidos, the most important are the Holy Week Festivities (recreating the steps on the Way of the Cross), the Ancient Music Festival, the medieaval market and for the more gluttinous, the International Chocolate festival, which includes a competition in which the recipes are judged by a jury of experts. This event is becoming more popular every year.
While in Obidos don't miss the chance to savour the local cuisine, with dishes like caldeirada (fish stew) accompanied by special regional wines. Within the walls, numerous bars offer you a taste of ginjinha, a traditional liqueur.