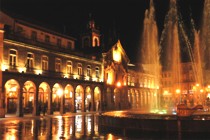 Bracara Augusta is the Roman name of the city of Braga in northern Portugal. The Roman city was founded by the emperor Cesar Augustus around 16 B.C.

During the Flavian era, Bracara Augusta received the municipal statute and was elevated to 'conventus' seat called 'Bracarum', having the administrative functions of a vast region. After the Dioclecian reform, Braga became the capital of the newly created province of Gallaecia.
In the 5th century the city was taken by the Suevis who chose it as capital of their territory.

Braga is a very interesting town full of traditions and places to visit. Braga is famous in Portugal for being the main religious center in the country and is also known for its baroque churches, magnificent 18th century houses and elaborate gardens and squares.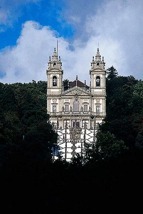 'Bom Jesus', 'Sameiro' and 'Falperra' are outstanding places that should be included in any tour of Braga. Due to their beauty and religious value, they make up a triangle, based on religious interest and surrounded by unspoilt green areas.
To reach the Bom Jesus Sanctuary, you can go by foot, car, bus or even take the venicular, an impressive piece of 19th century engineering. The stairway leading to the top contains 17 landings adorned with symbolic fountains, allegoric statues and other Baroque style decoration along themes such as the Stations of the Cross, the Five Senses, The Virtues, Moses receiving the Commandments and, at the top, the eight biblical figures that contributed to the Condemnation of Jesus.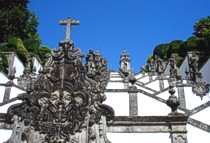 Braga has a rich diversity of cultural initiatives throughout the year. From music to theatre and dance, photography and cinema. There is an array of sounds, colours and movements that have become increasingly popular.

Easter and Holy Week are celebrated in Braga as in no other town in Portugal. Joining solemnity and pageantry, the streets are lined with candles and colourfully decorated. During the holy procession, visitors and devotees gather along the darkened streets to witness this great moment of devotion.
The 'Penitencia' procession which represents Christ's final steps while being led to Calvary is perhaps the most pious event. Another is the Senhor Ecce-Hommo procession and Our Lord's funeral procession, both of which take place on Good Friday under a shroud of silence and which draw an end to this majestic cycle of the Holy Week processions and the beginning of the Easter celebrations.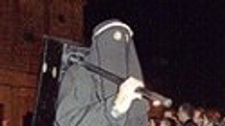 Another important festivity which attracts thousands of visitors is the 'Sao Joao de Braga'. Its first references date back to 1489, yet even back then, its origins were tenuous.
The festival is rich in popular music, typical folklore dancing and music, artistic lighting, fireworks and an array of cultural, sport and religious events.
The scent of basil can be found everywhere while enthusiastic individuals leap over bonfires to the tune of beating drums while the air is filled with music and the smell of grilled sardines.