Fria, Marvao, Castelo de Vide and S. Mamede : four peaks for a mountain and a park area situated on the plains where it is possible to look up and see the eagles
Text provided by the Portuguese Tourist Office (with minimal corrections)
The mountain range known as the Serra de S. Mamede is made up of four peaks: Fria, Marvao, Castelo de Vide and Sao Mamede (the highest being 1025 metres). In addition to several examples of traditional architecture that can be found in the walled town of Marvao and in Castelo de Vide (where the largest Jewish community in Portugal lived), there are many other points of interest: the villages of Esperanca and Alegrete or the remains of the town of Amaia.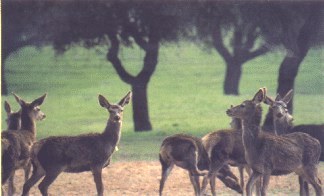 In the arid plains of Alentejo, the massive Sao Mamede Serra, approximately 40 km long, fulfils an important function of microclimate, providing the region with levels of rainfall and humidity that contrast with the surrounding territory. This diversity of climate and the morphology of the soil give rise, in this small area, to a combination of Atlantic forest with Mediterranean bush, thus forming a rich 'vegetation laboratory'.
The trumpet narcissus and the stonecrop are among the rarest plants. It is also still possible to find Solomon's seal, 'three bird grass', honeysuckle and wild roses. Against the almost complete disappearance of the Iberian Lynx (which is only rarely seen) can be contrasted the relative rehabilitation of European royal deer.
The Sao Mamede Park is an important nesting area, supporting more than half of the species that breed in Portugal, with vultures (black, Egyptian and royal), eagles (snake eating and Bonelli), grey kite, royal owl, griffon vulture, black stork or the tower screech owl being of particular relevance.