The historic town of Guimaraes is associated with the emergence of the Portuguese national identity in the 12th century. An exceptionally well preserved and authentic example of the evolution of a Medieval settlement into a modern town, its rich building typology exemplifies the specific development of Portuguese architecture from the 15th to 19th century through the consistent use of traditional building materials and techniques.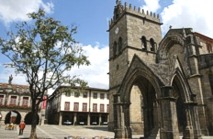 It was within sight of the castle walls that Afonso Henriques defeated the army of his mother in 1128 resulting in him becoming the first king of Portugal.

In those days the lands to the south in both Portugal and Spain were under the control of the Moors. Over the years, with the assistance of the 'Crusaders', the land was retaken from the Moors who were driven back into Africa.

A visit to the city should commence with the castle and the tiny Romanesque church where Afonso was probably baptized.

Just across from the chapel is the imposing Paco Ducal where the palace is now a museum. It was formerly the Palace of the first Duke of Braganca and was inspired by the great French manor houses of the period. Within the palace is an impressive bronze statue of King Afonso sculpted in 1874 by Soares dos Reis.

In Largo da Oliveira, named after the old olive tree in the square, is the former Pousada de N. Sra. da Oliveira which is an ideal spot to start a walking tour of the city.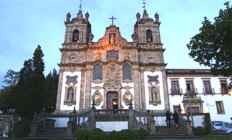 In the square is a curious Gothic canopy-shrine commemorating the Battle of Salado in 1340. Surrounding the square are the traditional houses of Northern Portugal and on the east side is the Church of Nossa Senhora da Oliveira which has a beautiful front adorned with sculptures.
A visit should be made to the cloisters where there is the Museum Alberto Sampaio with important middle ages and 15th century pieces. On the north side of the square is the old Pacos do Concelho dating from the 14th century.
Follow the Gothic Arches to Praca de S. Tiago which is one of the most characteristic public spaces in the city.
Continue on into the distinctly medieval atmosphere of the old Rua de Santa Maria with its charming verandas of the houses, and notice Casa do Arco which has a raised walkway over the street.

You then enter Lago do Conego with the Baroque front of the former Santa Clara convent. Other buildings are The Town Hall and Casa dos Carneiros, a noble manor house.
Here is a beautiful group of 18th century houses, a Renaissance fountain together with the old convent and church of Carmo which is one of the most expressive Baroque works in Guimaraes.
A museum in the medieval cloisters of the Mosteiro de Sao Domingos stages important exhibitions of local archeology.
Overlooking the town of Guimaraes is the beautiful Pousada Santa Marinha.
Text provided by the Portuguese Tourist Office