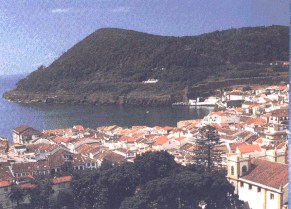 Spectacular lakes fill extinct volcano craters, geysers and hot mineral springs steam from the rock, fields like patchwork quilts cover the ground. Villages of dark red roofed, white-washed houses punctuate the landscape. Boats of all shapes and sizes jostle in the ports. The archipelago of the Azores is situated one third of the way across the Atlantic between Portugal and New York, and was uninhabited until the Portuguese discovered it in 1427.

Sao Miguel is the largest, famous for its crater with two adjoining lakes of sapphire blue and emerald green. Special soups and stews are cooked in sealed pots sunk into the ground at thermal springs. Its capital, Ponta Delgada, boasts wonderful 15th and 16th century churches with incredible Baroque interiors. The hand painted ceramics of Lagoa are typical of the many local handicrafts that you can buy here. Santa Maria is the other eastern island and has tempting white sandy beaches, hidden grottoes, sheer cliffs and splendid forts.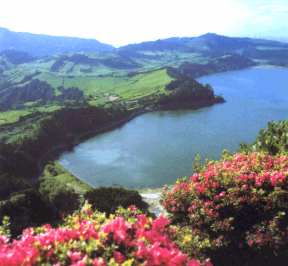 Visitors to nearby Faial, in the central island group, will be amazed at the sight of Caldeira - an immense crater carpeted in green - and Horta, which has for centuries been a port of call for sailors, such as transatlantic yachtsmen. Faial's name comes from its beech shrubs, even though it is more profuse in wonderful blue hydrangeas.
From Faial, you caw look out to Pico, higher than any point in Portugal, with its snow- capped mountain peak and mysterious landscape of blackened lava. Terceira, the third largest island, has the capital of Angra do Heroismo which has been given UNESCO world heritage status: its a perfect example of a Renaissance city, laid out in a grid, with streets lined by noble mansions and imposing churches. The town was once the focal point for many sailors who stopped there on their way to India. Terceira is renowned for it's own peculiar form of bullfighting in which the hull is led about by ropes. Also in this group are the islands of Graciosa and Sao Jorge, profuse in lush vegetation, vineyards, water mills and lakes where the many perch and carp provide excellent fishing.
In the western group, you'll find Flores, remote with wild rugged terrain, crater lakes and a myriad of wild flowers, and known for its remarkable works in fish scales and fig tree pith. Corvo is the smallest island in this group and has the tiniest village in Portugal, with just over 400 inhabitants. Inside the crater of its extinct volcano is the mysterious sight of nine rocks shaped exactly like the archipelago's nine islands.
The Azores are a paradise for the explorer and offer wonderful golf, tennis and big game fishing too. Delicious shell fish, octopus, rich cheeses, the famous Pico wine and celebrated passion fruit liqueur will all tempt your palate. Every island has its own singing and dancing traditions that explode in colour at festival time. Whether you visit just one or a few of the islands during your stay, the Azores will weave a magical spell that will make you want to return again and again.
Text provided by the Portuguese Tourism Information Department